Ecuador is a country full of culture and traditions that make it so rich in so many different ways. In spite all of its wonders and richness, many travellers from all over the world still seem to use Ecuador's mainland cities as stopovers before they decide to travel to the beautiful Galapagos Islands.
Even though the Galapagos are indeed majestic and wonderful, it seems that many people forget that there are also many wonders and beautiful places to see and learn from in the cities of Ecuador and Quito is among them.
Ecuador's capital city, Quito, is full of activities and experiences to offer to all of its visitors. Its great variety allows it to be so versatile and flexible for all types of travellers. Unlike many other places where you are somehow bound to do a certain type of activities for the rest of your trip, Quito can be tailored and adapted to everyone with all types of likes and preferences. Therefore this post will focus on seven main reasons that will definitely make you fall in love with Quito and extend your stay in this city.
1. The Middle of the World
Doesn't Ecuador sound familiar or similar to something you have probably ever heard before? If your answer is the equator then you are right. The equator goes through Ecuador and it is in Quito indeed where you can feel zero gravity!
Funny enough when you go there, you will see that there are two sites labelled as the "middle of the world". The first one is the most famous monument that was made thanks to the geodesic expedition that occurred in the 18th century and gave it its name. However a few years later another researchers came and found that the actual place marked by the GPS with 0 latitude was located a few feet away from the one that was thought to be the real one.
Two hundred years after its discovery, the Ecuadorian government decided to build a monument for people to admire and enjoy the actual zero gravity. Nowadays the Middle of the World Park is a must for all travellers who want to live a different type of experience. The Intinan museum is the place where you can live the 0°0'0" experience. Imagine being in two hemispheres at the same time! In addition you will also learn about history and culture such as the Quitu Caras tribe who treasured the sun as their guide. By learning about their ideology you will understand how the sun was and still is very important for development as it was for this tribe.
Some of the things that you can enjoy at the Middle of the World and that are definitely worth experiencing are the following; trying to walk in a straight line and not being able to due to the altitude and gravity that prevents you from doing so, standing an egg on a nail, and observing how water rotates differently in the two hemispheres!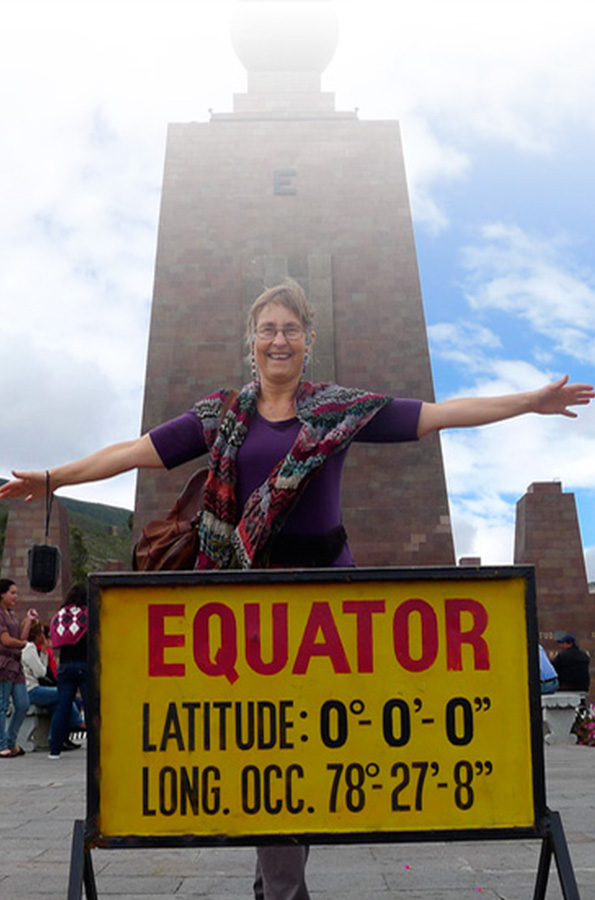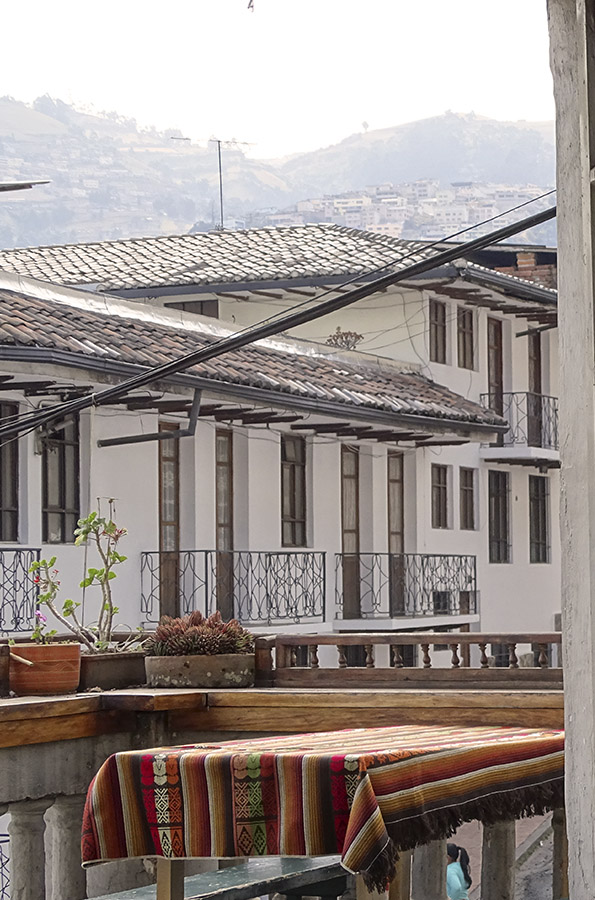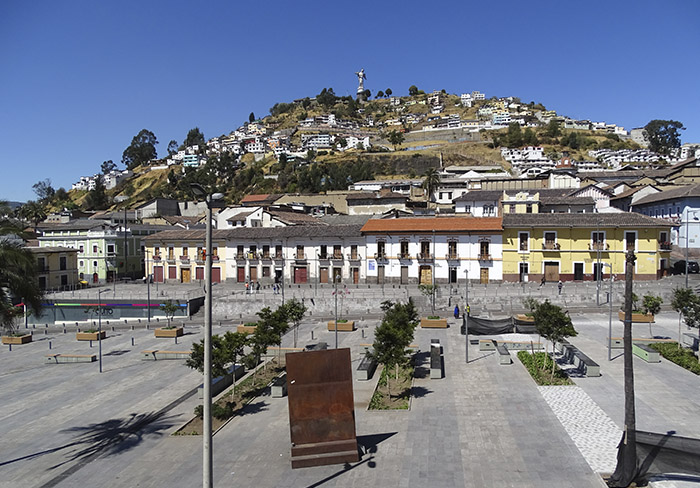 2. Experience World's Heritage City of Quito through your senses
A World Heritage Site is defined as the landmark or area which is selected by the UNESCO due to its high cultural, historical and scientific importance and hence is legally protected. Quito was the first city in South America to be declared a World Heritage Site and it is no surprise because it is indeed a place with so much to offer. The fact that is it is the largest city in South America with a preserved and maintained city centre means that it is truly appreciated and valued by not only its citizens but by many around the world and hence has a lot to offer.
One of the things that visitors experience and witness while walking along the streets of Quito is the Spanish influence that can be observed through the architecture of the houses, which takes you back to the republican era of Quito.
There are many streets in Quito where you can live the art and the culture of the capital city of Ecuador. La Ronda street is for instance one of the most iconic streets due to many reasons. Its narrow streets are surrounded by a different type of atmosphere that can be felt from the very first moment that you walk in. La Ronda is a street where you will be around artists that display their artwork outside their galleries, artisans who put their handicrafts out for you to see, local cuisine that will delight your palate and more! It does not matter whether it is daytime or night because La Ronda has always something that will make you fall in love with it. However I must say that if you are into nightlife and fun, La Ronda has also a lot to offer.
Travelers can experience the local ambiance of party and dance thanks to the high variety of restaurants and bars that offer live music and great traditional drinks such as the canelazo; which consists of alcohol, a fruit called naranjilla and spices. This will kick all of the cold out and welcome the happy and active side inside you.
Another neighbourhood that is wonderful and not so known by many travellers is San Marcos. Unlike many other parts of Quito, San Marcos is a town that can still be considered a real and traditional town in the middle of the historic centre. Located only 8 minutes away from the main Independence Plaza and 2 minutes away from the Santo Domingo park, we encounter San Marcos.
This neighbourhood is perfect for all those who want to experience the traditional and living side of Quito. In comparison to La Ronda, San Marcos is still inhabited by real families which makes it a calm place that does not stop its movement at 6 in the afternoon. In here it is beautiful to witness the artistic influence that this neighbourhood has had throughout time. Even though it is relatively small (no more than 5 blocks in total), you can enjoy three different museums in the same street, different art galleries, local artisans and exquisite traditional cuisine such as Mrs. Angelita's legendary potato tortillas and slow roasted pulled pork.
What makes San Marcos remain as beautiful as from the very beginning for such a long time is the fact that it is inhabited by artists and by people who have lived their entire life there, hence they cherish their town and do everything to keep it as beautiful as always. Just as San Marcos and La Ronda, Quito has so many places to enjoy culture and history that will make you experience a city from a different perspective: a sensorial one.
3. Enjoy Quito's panoramic view from the Pichincha volcano
One of the things that make Quito so naturally beautiful is its geography. If you are travelling to Quito by plane, then it is very likely that you will see how many natural landscapes it has. As it is located in the middle of the Andes, it is surrounded by mountains and volcanoes. It is amazing to think that the capital of Ecuador is located no more than 50 km away from the highest active volcano in the world; the Cotopaxi.
There are many places where you can enjoy the beautiful view of Quito and the cordillera of the Andes. The Pichincha volcano may be considered one of those beautiful key outlook points. If you are lucky with the weather, which is not so hard, it is very likely that you can enjoy the view of the Cotopaxi, the Antisana and more mountains aligned together!
Those who are into adventure can enjoy a wide variety of activities here such as horseback riding in the highlands, trekking, cycling, camping and even paragliding. In addition there is a beautiful cable car that will not only satisfy your desire for adrenaline but it would also allow you to cherish nature by allowing you to take mesmerizing pictures.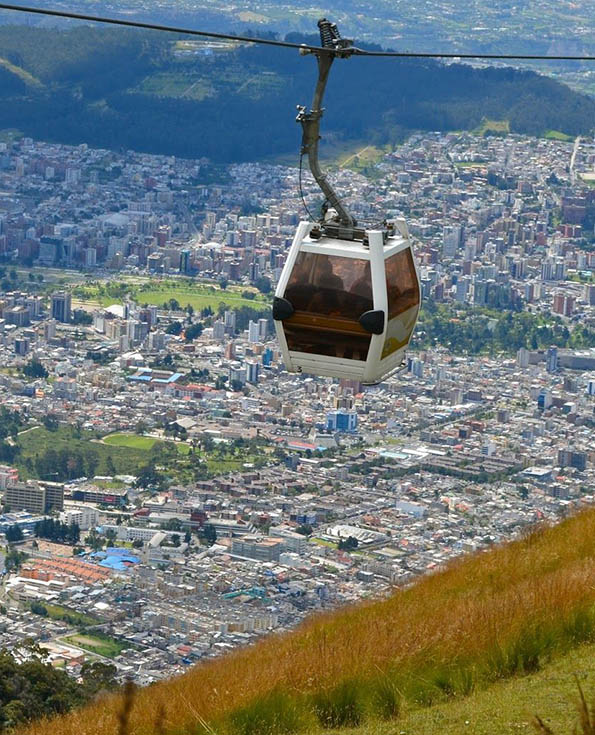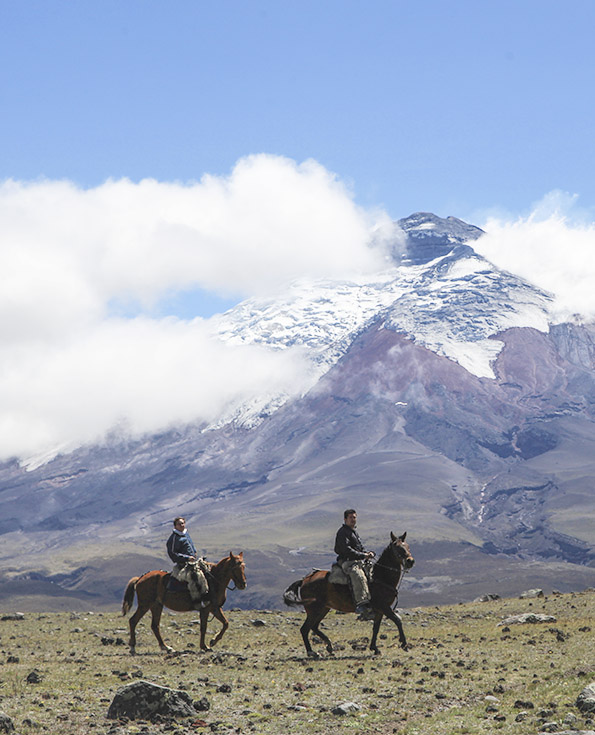 4. Allow Cotopaxi volcano to blow your mind
As it was mentioned previously, the highest active volcano in the world is located no more than 50 km away from Quito. It is 5.897 metres high or 19.347 feet respectively. Due to its location, this can be enjoyed very easily as you can arrive there in no longer than 1 hour. Many climbers and hikers fall in love with it and we cannot judge them because it is so easy to do so.
If you are willing to climb up all to the way to the crater, you can also do so but we strongly recommend you to acclimatize yourself first to the altitude as you will be reaching the five thousand metres above sea level. However if you are not so interested in hiking, there are many activities that can be enjoyed.
There are different trails that you can do by yourself or with a guide as you prefer and each of them will allow you to enjoy the wonderful panorama and landscape of the highlands. You will not only see a great diversity of birds but the contrast between the mountains and the paramo is truly beautiful!
There are many haciendas close by where you can stay overnight and it is really recommended as if you are the type of person that does not want to camp, then you can stay comfortable at one of these haciendas and wake up a little early to enjoy a clear view of the cordillera and if you are lucky, the condors.
In addition if you are looking for an extra and unique experience, it is possible to take a helicopter tour that overflies the volcano's crater. You will be truly blown away by this view and the contrast of nature and the surrounding valleys of Quito.
5. One step away from the cloud forest and more Andean towns
Ecuador is such a privileged country because everything can be considered to be relatively close to each other. That means that it is very easy to visit different cultures and different landmarks in a short time.
Otavalo is the largest and biggest indigenous market in South America and it is only located one hour and a half from Quito. This market catches not only foreigners but also locals due to its colours that make it such a living place to visit. Indigenous offer their own knitted clothes and jewellery as well as other handicrafts for different comfortable prices. For those who want to experience a more authentic moment, then you are invited to overnight at one of the local's towns. It is beautiful to see how their daily routines differs from ours in terms of nature and needs.
Mindo is located in the opposite direction as Otavalo, instead of being an Andean town this is a cloud forest found on the road to the coast. Mindo is indeed the town that somehow represents the border between the coast and the Andes and you can witness this by the view and the flora as well as fauna. As we are descending the highlands, all of the clouds start to go down to settle. This results in a humid and warm weather that suits perfectly for all butterflies, birds such as the toucans and parrots and more!
Papallacta, located 2 hours and a half away from Quito is a little town located in between the Andes and the rainforest. Those who are seeking for a more relaxed sort of activity and feel like they deserve a little time off the city and stress, Papallacta will be perfect for you. The natural hot springs offered by Papallacta are probably the most popular in the entire city as the water is volcanic and you will be relaxing in the middle of the mountains and the forest! Plus, you might also enjoy the series of wellness therapies offered by the lodge that will certainly take your breath away.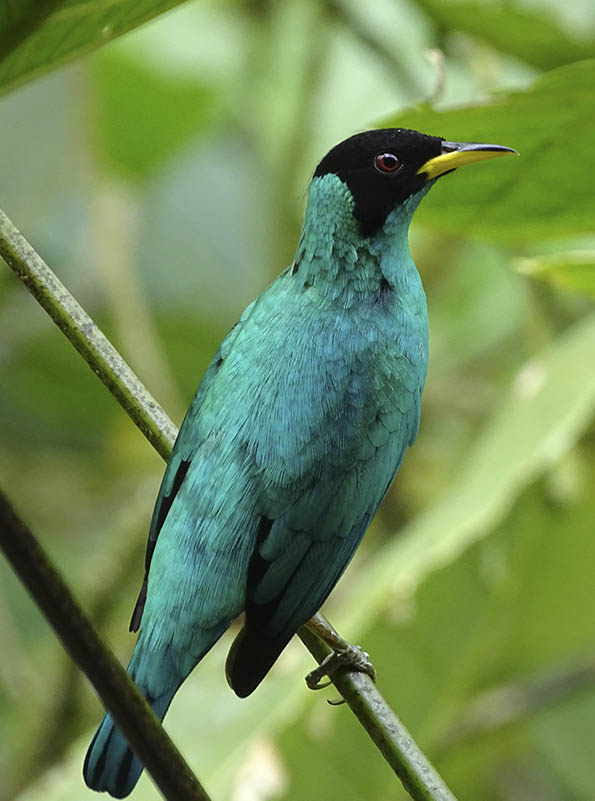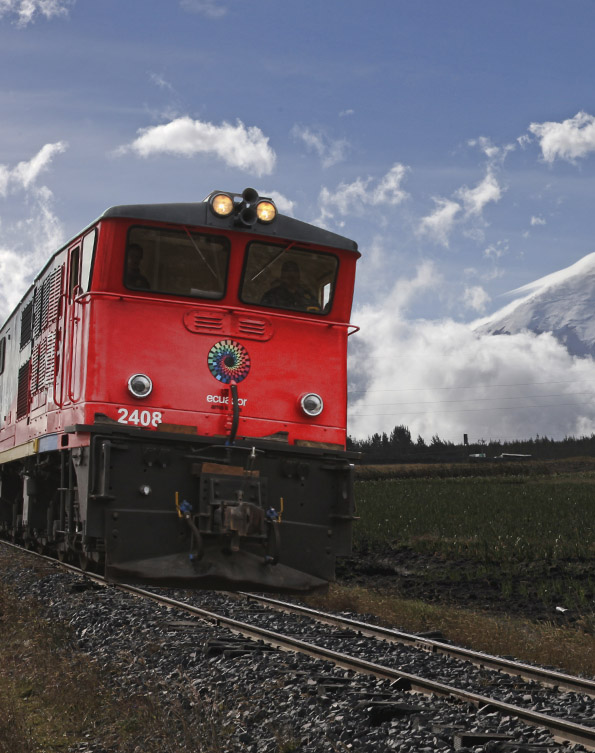 6. Enjoy the most beautiful train in Ecuador and South America through the Andes
Years ago Ecuador decided to take the daring challenge of developing a route that connected the Pacific Coast with the Andes. Even though it did take a lot of years for that project to become true, once the train was inaugurated, we all knew it was worth it. The Devil's Nose train for instance was very difficult to execute to the geography itself of the mountain. This train goes around a very steep mountain, meaning that if you look to the right you will probably feel like you are about to fall into the abyss!
With the great success of the Devil's Nose Train, Ecuador decided to really go big and hence they opened the Coast-Andes route and it is open for both local and international visitors. This award-winning attraction is catching everyone's attention due to many reasons. One of them is that since the train goes to places that cannot be reached by cars and hence you will be enjoying a natural environment that has not been yet exploited or intervened.
Depending on the length of your trip, budget or interests you can tailor the train trip to your preferences. For instance it is possible for you to experience the whole route in 5 days and you will be visiting flower plantations, observing the volcano route, enjoying the coffee experience and more!
7. Twist it up by enjoying Quito's Artisanal Breweries
In the past years, Quito has been the key place for many artisanal breweries to arise. Somehow Quito was made to be a city that incorporates its surrounding landmarks, its incoming cultures from different people that have migrated into Quito and its own culture and reflect it through different entrepreneur projects. Therefore the tradition from the beer gardens and local breweries started to become popular with the first brewers in Quito who decided to make this a real and ongoing trend that has not really stopped.
The Franciscan Congregation could be said to have been the first one to bring this "beer" tradition into town as they were the ones who brought the barley, the wheat and started to produce their own beer for its monastery. Unfortunately nowadays this brewery is no longer operating but it is on the other hand open and refurbished to all those who want to experience Quito's beer history.
As beer is an open book that can be tailored and made to perfection for all types of tastes, you will find different breweries that specialize in different types of beers with different techniques such as the Belgian, German, American and others. To find such variety is truly impressive. From IPAs, Ales, Lagers to Stouts, all of them are tasty! If this article left you already with a little bit of thirst for beer, we totally get it and that is why we will recommend you our personal favorites: Sabai, Amsel Bräu, Santana Brewing Company, Santa Rosa, Doggerlander, Bandido Brewing, 3 Monjes and more!
Throughout this article we only explored seven reasons for you to extend your stay in Quito. It was clear that there are many of them; from culture to food and to landmarks. Ecuador's capital is truly a city that has so much to offer and that is why we encourage you to live the Andes experience before you go to the Galapagos or anywhere else.
Visiting Quito is a great experience that you can't miss, contact us if you have any question.