With broom and shovel in hand the traders of the traditional Mercado Artesanal, located in La Mariscal, cleaned sidewalks and surrounding streets. They did it before opening their doors to customers.
This enthusiasm was joined by other residents and merchants of the same area in the historic center of Quito, who went out with their brooms and garbage bags to clean all the streets.
This was one of the points where the participation of citizens was activated in the Minga de la Quiteñidad, the first official activity for the Fiestas de Quito.
The official start of the day was scheduled at 09:00 on Sunday, November 21, 2021, but hours before some residents came out to clean their sidewalks and other spaces.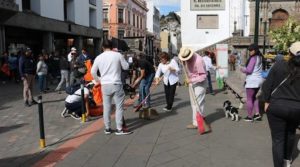 Among the first to go out were also municipal workers from companies such as Public Works (Epmmop). A crew was concentrated at the overpass of 10 de Agosto and Patria Avenues. There they cleaned the area and painted the bridge.
In the south, work also began with personnel from the Empresa Metropolitana de Aseo (Emaseo) at the Concha Acústica. There the grass was cut and the other areas were swept.
The initiative was also copied over the hours in other sectors of the city such as Carapungo, La Floresta, Llano Chico, Alangasí, Yaruquí, among others.