The Ecuadorian history is closely related to the Catholic religion and the evangelization of the indigenous in the colonial period. Hence, Ecuador is a very religious country with lots of festivities and traditions related to the Catholicism. That is why the Holy Week is one of the periods of the year when locals have the opportunity to express their devotion massively.
During this week, Quito among other cities within Ecuador has many religious expressions. Indeed, it is one very well known, which is Jesus of Great Power Procession (Jesus del Gran Poder) that takes place during the Holy Friday in the streets of Quito´s city center. It is an ancient tradition, and very popular for both locals and travelers; yet, it is very crowded nowadays.
Nonetheless, there are other expressions followed by small communities that also shows the importance of religious traditions during the Easter week. San Marcos, for example, is one of this communities. Every year devotees walk Virgin of Dolores along San Marco´s streets, an image from the XVI Century that represents the Escuela Quiteña. For locals, the procession on Holy Saturday, which this 2018 is on March 31st, is the way to remember and feel through the music the sadness of Jesus Christ death and then finishing with the joy of the resurrection of him.
San Marcos is a traditional artistic neighborhood that is very close to the city center (5 minutes walking); yet, it is still reflecting and living in a very traditional way because was kept isolated to the city center for years. Hence, many locals always say that they are going to the downtown as a faraway place even though they are just a few blocks away.
Procession route in San Marcos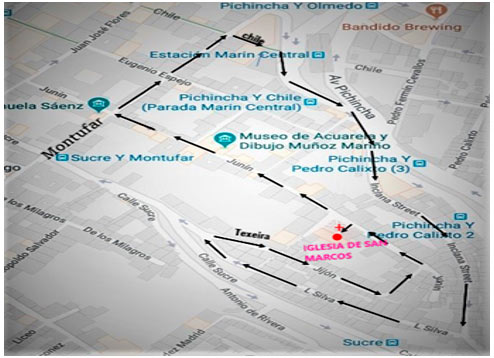 That is the reason why Illa Experience Hotel invites both locals and visitors to join them in this procession. There is no better way to approach an authentic and meaningful expression of the religious belief and passion of a local congregation, off the beaten touristic path.
Also, Illa Hotel opens its doors to those visitors that want to live a mixture of tradition and unique gastronomy at Nuema Restaurant. Only for this March 31st, Nuema is offering a lunch with seven-courses menu thought to transmit the flavors and customs that represent Ecuador during the Holy Week.
Come to Illa Experience Hotel, have a memorable lunch at Nuema Restaurant, and then join San Marcos´ community in the procession of the Virgin of Dolores from 16h00 until 18h00, and live this event like a local.
If you want to arrange your lunch at Illa and getting more information about the event, please contact Illa Experience Hotel at [email protected] or call to +593–2– 395 7010.