Where to experience authentic coffee, best coffee places in town.
The British have their afternoon tea, the Ecuadorians but mainly the Quiteños have their afternoon coffee. One of the most beautiful traditions all Ecuadorian families have is to drink a good cup of coffee at 5 o'clock with a good and homemade bread. To be honest this small cup of coffee costed no more than one dollar for those who wanted to enjoy it outside and less than a 50 cents for those who felt like drinking it at home. The truth is that regardless of the place, having a cup of coffee is the perfect excuse to gather the family together and talk about their day.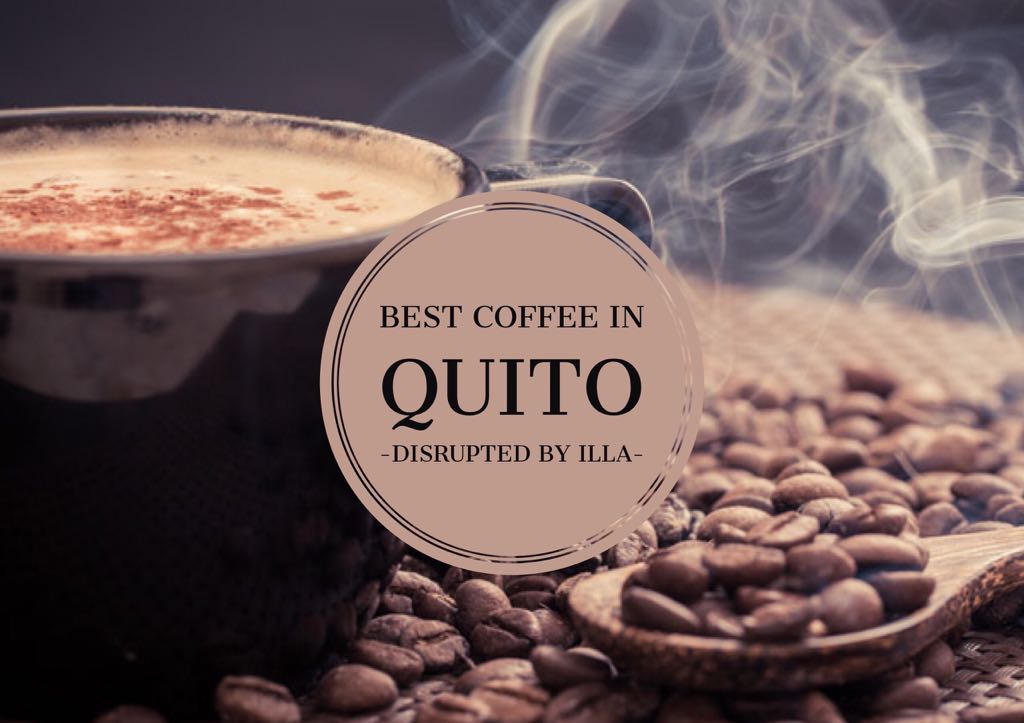 We have to learn to see coffee as something different than just a drink as there is so much value to it behind that small cup. Coffee is a journey itself. First of all the selection of the land is crucial, one must ensure the land is fertile and full of nutrients, organic. Planting the coffee bean comes next and this is where the quality that wants to be produced is ensured. During this process, the most aromatic and intense flavours of coffee beans are planted in order to obtain the most delicate and fine coffee at our table. The selection of the right coffee bean follows in the process where only the best are chosen to be further sold to the public. All of these little steps are involved in the journey of coffee and even though they are small, they are all of big importance when it comes to the final result.
Our ancestors, grandparents, were very likely to be involved in these processes and perhaps that is the reason why that afternoon coffee was so important. Because it meant all the hard work and that symbolized somehow the moment of effort and union that can be relfected by having all the family together talking and laughing with each other.
That being said, it is important to know all of those new places that offer a good cup of coffee and the perfect ambiance to feel that emotion and sense of family in Quito. We know that nowadays many people may be busy with work or with the kids, but the tradition of having a cup of coffee to share a moment with family or friends.
1. En Dulce
Even though this cafeteria has only been opened for less than two years, the sense of originality and authenticity is felt at their doorstep. When they talk about themselves, they relate it to the following quote "Discussing about legends while enjoying a cup of coffee, a good dessert or a nice hot chocolate takes us back to those childhood years where everything was just simply magic".
The truth is that the aforementioned quote is not far off from reality. This place has been chosen for several years for being one of the best hideouts in Quito. Meaning that many citizens have chosen this place as on of their must. The thing is that with this cafeteria, you will not only delight your palate with all the different types of bread such as whole wheat, corn, rye and more but you will be surrounded by people chatting amongst each other, laughing and some even gossiping. In addition the clear and fine glass that divides the bar with the "kitchen" allows all guests and clients to observe all the bakers working together and baking all sort of goods from different flavours and sizes.
The place itself is not any bigger than 40 square metres, that being said I recommend you to go a bit early or just test that patience because it is very likely that En Dulce will be full of people; some drinking coffee while others buying their bread or humitas for their breakfast.
Our personal recommendation: Quinoa granola with fresh fruit, Ponche (traditional eggnog hot drink), "cachito" with ham and cheese (delicious butter croissant) and two boiled eggs.
Where to find it: Guayaquil y José Joaquín Olmedo, N6-56, Quito
2. Buen Café
The perfect place to have a fresh grinded coffee, brewed in the traditional way is surely without a doubt this cafeteria. Not far off from the Santo Domingo Plaza, in the middle of the Imbabura and Vicente Roafuerte streets you will find El Buen Cafe. Make sure not to go too fast on these streets or you will miss this cafeteria. Why? The place itself does not have a big sign as we would expect. On the other hand, you will probably notice the sign once you have already eaten and left the place.
Its small door and its small area of less than 15 metres might distract you but once you enter into this place, you will be embelished by all of the movement and action that you will see in such small place. From the moment that you walk in, you will experience a different kind of breakfast. (Oh yes, just breakfast because everything runs out by 10am!)
While you try to find a seat, you will be distracted by the mother brewing the coffee, the sister cutting up the fruit and the son cutting the bread to make fresh sandwiches. It is so wonderful to see all of that action and movement happening in such small place and all at the same time. In terms of pricing El Buen Cafe is pretty reasonable with a good breakfast costing you no more than 5 dollars. There are no fixed menus because you decided what you want to eat on that day at that moment. For instance, do you feel like having a sandwich and a coffee? You have it. Or, perhaps you feel a little bit more curious and you would like to eat some hard boiled eggs with fruit, sandwich and a cappuccino. Regardless of what you want to try or have, they will have it and they will treat you with the biggest smiles of them all.
Our recommendation: "Perico" eggs (scrambled eggs with peppers and tomatoes), hot fresh cheese sandwich, black coffee and a tree tomato juice (without sugar, because we like to be fit 😉 )
Where to find it: Imbabura y Vicente Rocafuerte (Quito Downtown Area)
3. Café Galletti
Proudly Ecuadorian and premium quality. Cafe Galletti has been on the industry for over 20 years. This family business started off in Quito as a coffee shop that offered the best imported coffee in town. Their style has always been different and unique from the very beginning until now.
Twenty years ago their concept was to offer an excellent cup of coffee with the best environment. Therefore people could enjoy their drink while listening to wonderful jazz while smelling the strong yet delicate aroma of the fresh espresso.
It was thanks to coffee that the Galletti couple fell in love; the new yorker and the Ecuadorian. They both then decided to transmit their passion to Ecuador by opening their very first shop in La Mariscal. As time passed they knew more and more that coffee was their perfect excuse to build a community and keep on with their dreams.
Nowadays, Galletti offers premium Ecuadorian coffee from different altitudes and different beans. By being here, you will not only taste a wonderful coffee but you will be able to enjoy an experience offered by Galletti themselves and you will enjoy a personalized coffee tasting session.
Our recommendation: Pure black coffee and a small pastry.
Where to find it: Teatro Bolivar