First of all, you are probably wondering why we have decided to even write a blog post just for one video as they are usually self-explanatory and visual, so why bore you with text? The answer is quite simple. We believe that unlike many other videos, this one deserves its story because as you might have already noticed; it is not quite the usual 360 video we are accustomed to see where are often overwhelmed by architecture and views. On the other hand, our video focuses on representing our philosophy which is based on experiences and authenticity. Therefore the audience enjoys a different video where one can observe the little things that make Illa special and stand out from others and that is
The first impression or moment that you observe by watching our video is the patio or backyard of a cloister. In here we encounter an artist who is painting his surroundings; the water fountain, the stone pillars, the arches, the gardens and the plaza itself. Besides the wonderful interior that we are grateful to observe, we can all feel something different just by looking at the artist, Jhery. We are overwhelmed by the peace and the concentration that he transmits to the audience and that in a way takes us to that place and calls us to interact with him at that moment.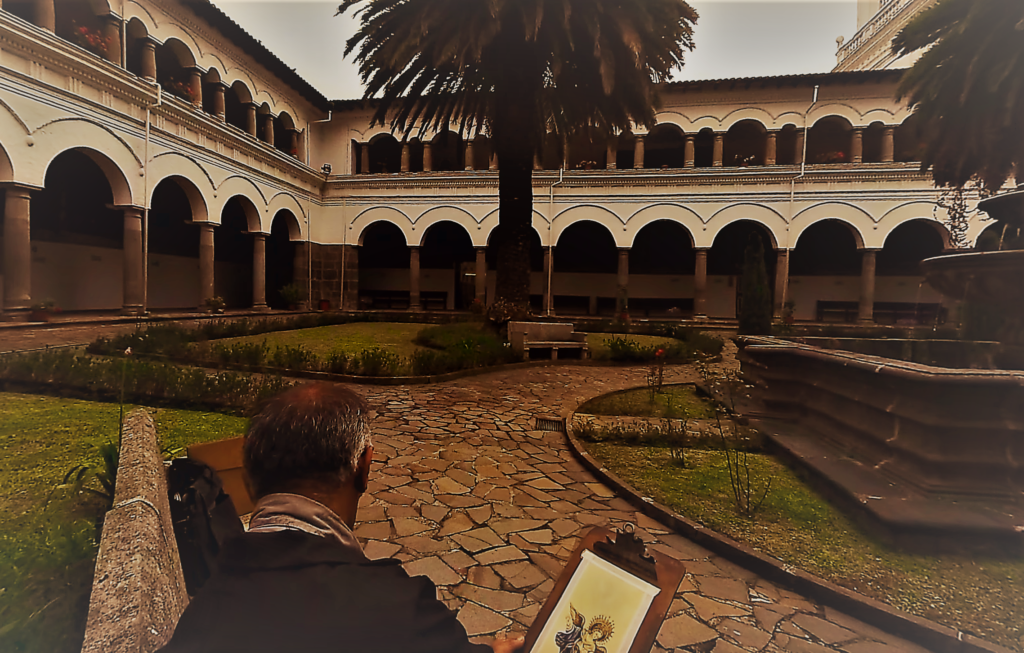 Afterwards we are taken to another beautiful place in the downtown area of Quito, Ecuador: the "trompos" workshop. All those who have not been to Quito or the word "trompo" does not ring any bells in the back of their heads, may find themselves a little lost in this part of the video. In order to explain this to you, in reality, few words are involved. When we talk about a trompo, we talk about all children's favorite game 40 years ago. The game consisted on rolling up the string around your trompo, hold it in your hand very tight enough, aim where you wanted it to roll and which other trompo you wanted to bump and defeat and let go! During those times, winning these sort of games made every kid around the block gather around and have a blast.
Due to technology and other factors, this tradition has seemed to fade away and almost disappear. Fortunately there are some people who still treasure their past and want to preserve it for as long as they can and that is how we find workshops that still focus on the elaboration of ancient games such as trompos. Therefore we now see in this part of the video a master of the trompo. We can see that he is surrounded by hundreds of different designs and models, all of them have been created from scratch by him. Apart from the great variety, just as Jhery we witness his passion by the way that he interacts with every possible customer or guest that enters his shop. It is wonderful to see how people like him lighten up when they are doing what they love!
Once we watch this first half of the video, we are then encountered by Illa, the big house. As we are a place of authenticity and originality, it is no surprise that during this part of the video you will see more than just detailed and carefully selected designs and infrastructure. You will sense the peace that we have tried to transmit to all of our guests and also our watchers because Illa is the canvas where many family and Ecuadorian traditions are being brought and showed to its guests. It goes from the welcome to the tiny detail and comrady in which we decide to treat our guests that makes us special.
This video serves as proof of a place with a soul: that is Illa Experience Hotel.