Colourful and favourite spots in Ecuador – Photography
Ecuador is such a beautiful and small country that makes it so easy to spot different moments to remember with your camera lenses. As Ansel Adams said "When words become unclear, I shall focus with photographs. When images become inadequate, I shall be content with silence."
On today's post we will now see our favorite shots from different parts in Ecuador that will enlighten your perspective from the country. Places and colours that we might not always pay close attention to, hopefully with this post we will open your eyes to our culture.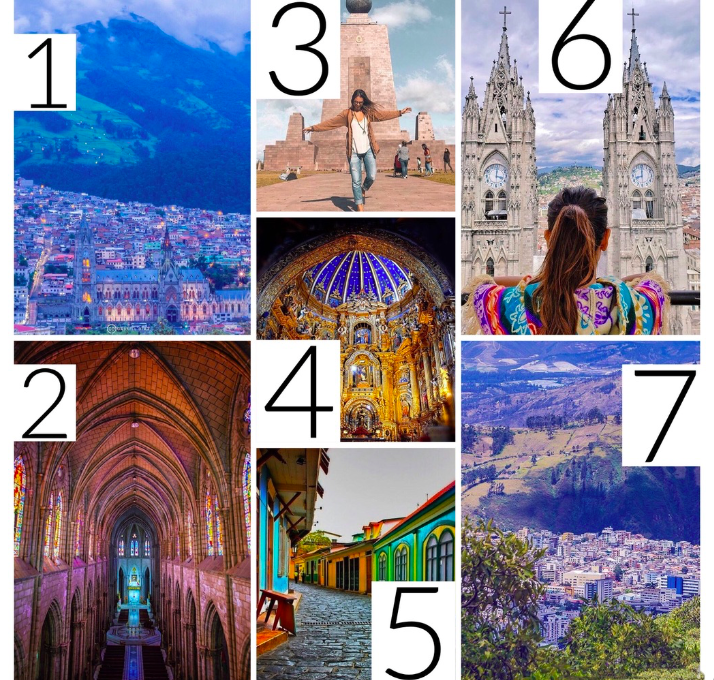 1. View from El Panecillo
This view is perfect for a romantic night out with your partner to enjoy the perfect sunset and the beautiful skies in Quito.
2 & 6 Inside the Basilica Church 
This is probably one of the most beautiful architectonic piece of work in Quito, the symmetry and the gothic design is a beautiful art work where you can witness religion and art together.
Picture 6 is the outside image of the Basilica and it is as beautiful as it is on the inside. By climbing up a staircase that takes no more than 15 minutes, everyone is allowed to enjoy this wonderful view of the cathedral with Quito in the background: breathtaking!
3. Middle of the World
Even though this picture may not be as colourful as the others nor artistic, it does have a lot of colour and meaning to it which can be seen in the face of the girl that is challenging gravity.
4. San Francisco de Quito Church
The perfect spot where religion is converted into art. Inside this church you will not only be able to feel the sacred sense of light and peace but also the Spanish influence and art that takes you back centuries ago.
5. Las Peñas, Guayaquil
One of the most beautiful neighborhoods in Guayaquil. The colours are vivid and happy which transmit tranquility and a sense of home to everyone who walks around this small street. Some love the artistic life, others the museums one can visit here. In general, this place stands for its colors which represent by all means life and passion.
7. View from Guapulo
We have talked in other posts about Guapulo, the bohemian and artistic town in Quito. We perhaps skipped talking about its viewpoints. One other characteristic that makes Guapulo so charming is its location. By being located in a hill, people are allowed to have another perspective from the Ecuadorian capital. We love it for dates and cultural meet ups!